Chef Jennifer Booker
Meet one of the ten chefs who will compete in the 3rd Annual Golden Onion
By Hope S. Philbrick
Chef Jennifer Hill Booker, owner and executive chef of Your Resident Gourmet in Lilburn, Ga., was named a Georgia Grown Executive Chef in 2013. She writes a weekly newsletter, is a contributing columnist and recipe developer for several magazine titles, and hosts Basil Radio Show. She partnered with Hard Rock Café-Atlanta for its culinary series, served as a culinary expert for Williams-Sonoma, and taught at Le Cordon Bleu College of Culinary Arts-Atlanta. A member of Les Dames d'Escoffier International, Booker is co-chair of its farm and garden initiative. After earning a B.A. from The University of Tulsa, she completed Oklahoma State University-Okmulgee's Culinary Arts program and later earned a Cuisine de Base Certificate from Le Cordon Bleu-Paris. She led Grayson Technical High School's efforts to earn accreditation through The American Culinary Federation, making it the first school in Georgia to boast such honors.
Her new cookbook Field Peas to Foie Gras: Southern Recipes with a French Accent, is set to be released by Pelican Publishing House on September 1—and is already available for pre-order at Amazon.com.
Have you ever competed in a cooking competition before?
I have done several. In culinary school we had mystery baskets and it was much harder than the rules for Golden Onion in that we didn't know what ingredients we'd get so we couldn't prepare. Also, when I was teaching at Le Cordon Bleu I liked doing competitions with other chefs, just hanging out as friends.
You'll be competing in Golden Onion for the first time this year. What motivated you to enter?
A couple of different things. As a Georgia Grown Executive Chef I wanted to get in there and promote one of our state commodities. Plus I have friends who have competed previously and they had nothing but good things to say about it. I think it will be lots of fun.
You'll be preparing "Vidalia Onion, Wild Mushroom & Gruyere Tartlet." What considerations went into creating your recipe?
My cookbook will be out later this year and I want to showcase some things in the cookbook and also bring in Vidalia onions and show how versatile they are no matter what cooking style you're using. I'll show the sweetness of the onion by caramelizing it then pair it with the meaty richness of mushrooms. I'll also show how a Vidalia onion can be a pickle. The pickling acid will balance that sweetness and cut through the fat.
How long did it take you to develop the recipe, which must include a Vidalia onion and be prepared in an hour at the competition?
Technically since it's from the cookbook maybe a year, but to think up what I wanted to do for Golden Onion I knew within 15 minutes that I'd do the tartlet.
The day before the competition, how will you prepare? Will you find it hard to sleep that night?
The day before I'll be doing some cooking demonstrations at an expo, so I'll need to pack up two days before the competition. What I do is run through everything in my mind—unpacking, setting up, cooking, plating, judges' tasting and winning. I'll be prepared that way. I'll be excited but fine. I know the value of sleep.
Tell me more about Your Resident Gourmet.
I founded Your Resident Gourmet in 1995 while living in Germany as a way to continue cooking while we were overseas and it has grown into a culinary company with cooking classes, demonstrations, menu consulting and now a cookbook. We do personal chef services and intimate catering—we could do a couples' anniversary dinner, a girls' night out, but generally not weddings [or other large events].
In addition to booking a private party, how might readers get a taste of your cooking?
We have a product line, Jelly's Jams & Condiments—my daughter's name is Janelle and her nickname is Jelly. Right now we have a cranberry orange relish which is wonderful on sandwiches as well as roasted and grilled meats. We also have a red onion confiture, a sweet and sour pickle relish. You can just click on over to YourResidentGourmet.com and pick them up.
We're switching over to organic ingredients and I'm retesting the recipes with the organic produce.
That's interesting. You need to retest the recipe?
When switching suppliers I test for quality and flavor profile. In my experience, it will be better. Organic produce tends to be fresher and have brighter color.
Is there any dish that you're most known for?
I get credited for healthy cooking and 'farm to table,' which I call 'local and seasonal.' I don't know if I'm known for a dish as much as a style of cooking, which I call Floridian cuisine—with lots of tropical fruits, vegetables and fish—and classical French.
As a Georgia Grown Executive Chef, how do you define 'local'?
Local to me is within a 100-mile radius. I try to do my very best to shop and eat local as well as seasonal. Remember with seasonal you're able to can, preserve or freeze products in season so you can enjoy them when they're out of season—like Vidalia onions.
What do you most like about cooking with Vidalia onions?
The versatility. I can add them to a dish for sweetness, pickle them to add sourness, I can eat them raw—and I love that fact, I love them chopped on top of beans and greens. And they don't make you cry!
Vidalia onions add a great flavor to every savory dish without the bite or bitterness of other onions. I look at Vidalia onions as a delicacy because I can only get them while in season and only from Vidalia, Georgia. I make a point of using them and have created specialty dishes just so I can use more Vidalia onions.
Aside from Vidalia onions, what are your favorite Georgia ingredients?
I definitely love pecans and I'm very excited about our Georgia Grown olive oil.
When you're at home, after a long day, what's your favorite thing to eat?
I'm a country girl at heart, so I love beans—pinto beans, Northern beans and more. I love slow-cooked savory beans and ham hocks or greens with chow chow on top.
More Information…
Your Resident Gourmet
Lilburn, GA
678.294.2002
Chefs reveal recipes for Golden Onion contest in Vidalia
04/15/2014 01:56:00 PM
Coral Beach
Courtesy Vidalia Convention & Visitors Bureau
For the third year, Georgia chefs are scheduled to compete for the Golden Onion traveling trophy at the Vidalia Onion Festival.  Ten Georgia chefs who are competing this year for the Golden Onion traveling trophy at the Vidalia Onion Festival have revealed the recipes they will prepare for the contest.
Ranging from chickpea and Vidalia onion pancakes to halibut studded with Vidalia onions, the recipes all showcase the Georgia state vegetable, according to a news release from the Vidalia Area Convention & Visitors Bureau, which is a sponsor of the April 27 festival.
Chefs will have one hour to prepare recipes and are required to provide eight plates of their entry dish. Five plates will be presented to judges, one reserved for photography, and two plates will be raffled off for spectators to taste, according to the release.
Recipe booklets featuring recipes prepared in the third annual golden Onion contest will be available at the festival in Vidalia, Ga., for $10 each.
Dishes will be judged on the basis of taste (50%), oral presentation (5%), visual presentation (10%), creativity (15%), overall use of Vidalia onions (15%), and following the recipe submitted during the application process (5%).
The winning chef earns bragging rights and the traveling Golden Onion trophy, as well as $500 cash. Second place takes home $250 and third place receives $100.
The chefs competing this year and their announced recipes are:
Chef Costanzo Astarita, executive chef at Baraonda Ristorante & Bar in Atlanta, will prepare "Georgia shrimp Vidalia onion remoulade, chickpea Vidalia pancake, Vidalia onion fennel slaw, and Vidalia onion ginger oil."
GA Grown Executive Chef and  owner and executive chef of Your Resident Gourmet, Chef Jennifer Booker, of Lilburn, will prepare "Caramelized Vidalia Onion & Wild Mushroom Tartlets." Chef Jennifer will caramelize Vidalia onions adding them to meaty wild mushrooms that have been finished with fresh cream and placed in a flaky crust. She plans to top this delightful tartlet with wild greens and pickled Vidalia onions!
Chef Brian Justice, chef and owner of Tasteful Temptations Café in Brunswick, who was awarded second place during the second annual Golden Onion competition, will prepare "pan-seared ahi tuna on a bed of pickled Vidalia onions and fresh ginger topped with avocado aioli and thin-sliced Vidalia onion sprouts served with a baby green bundle wrapped with a cucumber sash on top of a red pepper emulsion, dressed with Vidalia onion and Georgia peanut dressing and garnished with soy foam, sesame and wasabi crusted pecans, and crispy sweet Vidalia tobacco onions."
Chef Pano Karatassos, executive chef of Kyma in Atlanta, will prepare "Vidalia onion studded halibut," which will have a Vidalia onion crust and be slow poached in Vidalia onion infused olive oil and accompanied by Vidalia onion stew, and a Vidalia onion salad.
- See more at: http://www.thepacker.com/fruit-vegetable-news/Chefs-reveal-recipes-for-Golden-Onion-contest-in-Vidalia-255368401.html#sthash.5smH7IDf.dpuf
Chef's legacy inspires menus
Posted: 4:45 p.m. Monday, April 14, 2014
BY CAROLYN O'NEIL – FOR THE AJC
The main course at the Edna Lewis Foundation Scholarship Tribute Dinner at Atlanta's Le Cordon Bleu College of Culinary Arts was Cumin and Fennel Spiced Lamb with Fava Bean Succotash with White Pepper and Goat Cheese Ice Cream.
Do you ever wonder where chefs get ideas to create such delicious dishes? It could be just-picked produce at a local farm or a journey to explore exotic ingredients. But more often than not, culinary inspiration comes from collaborating with a talented chef colleague, learning by the side of a supportive mentor or admiring the work of a gifted protegee. Each of those scenarios fit the tribute to late chef Darryl E. Evans, who died of lymphoma at the age of 52 in February.
Darryl Evans was executive chef at the Four Seasons Hotel in 1997. File photo Nick Arroyo.
Tom Catherall, of Here to Serve Restaurants, first hired Evans at the Cherokee Town Club as his apprentice through the American Culinary Federation. "He was a mirror image of me in regards to food," he says. "Whatever I made, he could make it exactly the same. I didn't have to worry about the kitchen when Darryl was there."
Chef Charlie Hatney, of the City Club of Buckhead, was a longtime colleague of Evans: "The main dish includes succotash to reflect his Southern roots, but I used fava beans to show he was trained in the European style."
Evans held executive chef positions in area kitchens including the Athens Country Club, the Four Seasons Hotel and Villa Christina. He gained national acclaim as one of very few chefs of color to achieve such success, and as the first African-American member of the U.S. Culinary Olympic Team, he brought home four gold medals.
His professionalism went beyond the menu. "He never had an ill word for anyone and was just as supportive of the dishwashers as he was of other chefs," Hatney says.
History tastefully preserved
The Edna Lewis Foundation, dedicated to honoring African-American culinary heritage, is based in Atlanta. A chef, cookbook author and teacher, Lewis was a champion of Southern cookery. "There was a time when cooks were known only as domestics, you know as the help," says the foundation chair, chef Joe Randall, of Savannah. "The American Culinary Federation worked hard to get the designation changed to professional status, which is important for the career success of all chefs."
The contributions of Lewis, Evans and Randall may be getting more attention on a national level. A guest at Sunday's dinner, Nichole Green with the Smithsonian Institution's National Museum of African American History and Culture, says, "We're curating interviews and information to showcase foodways in an exhibit." One of the pieces the Smithsonian is working to obtain is a portrait of Hercules, President George Washington's African-American chef. "It's in a museum in Spain right now, but we'd like him to return to Washington," Green says.
Carolyn O'Neil is a registered dietitian and author of "Southern Living: The Slim Down South Cookbook." Email her at carolyn@carolynoneil.com.
FIELD PEAS TO FOIE GRAS: Southern Recipes with a French Accent
By Jennifer Hill Booker
Building a culinary foundation on her Mississippi roots and a farm-to-table concept, Chef Jennifer Hill Booker creates a unique take on contemporary Southern cooking. Combining agrarian approaches and down-home style with classical-French techniques, Booker reinvents Southern cuisine. These 135 recipes are the culmination of summers and holidays spent in Charleston, Mississippi, at the family farm.
For both the novice and experienced cook, Booker has the perfect recipe to satisfy your nostalgic taste buds. With chapters devoted to everything from breakfast foods to vegetables to pork dishes, Booker presents a fresh and versatile perspective on contemporary Southern food. From comforting Cracklin' Bread and flaky Buttermilk Biscuits to elegant Winter Pumpkin Soup and innovative Fig Stuffed Chicken Livers, Chef Jennifer Hill Booker will introduce you to an array of recipes that use French techniques to elevate familiar flavors.
In addition to recipes, Booker shares personal stories and photos of her family—raising chickens, butchering hogs, and tending the garden. The easy-to-follow recipes, food-pairing suggestions, and delectable photographs make this a must-have cookbook for any kitchen.
About the Author
Jennifer Hill Booker is the executive chef and
owner of Your Resident Gourmet, LLC, a
personal chef and catering company. Booker
earned a bachelor of arts degree from the
University of Tulsa, an associate degree from
Oklahoma State University, and a certificate
from Le Cordon Bleu-Paris. A former culinary
instructor and a culinary arts program director
, she is well qualified to write about proper
cooking techniques, flavor combinations, and
food pairings. Booker lives in Lilburn, Georgia.
About the Photographer
Deborah Whitlaw Llewellyn is a commercial photographer who has been shooting interiors and food for more than twenty years. She enjoys the challenging aspects of her craft—the technical functions of a camera, the importance of lighting, and attention to detail. Her profession allows her to travel, meet various types of people, and try delicious food. Llewellyn lives with her husband in Atlanta, Georgia.
FIELD PEAS TO FOIE GRAS
                Southern Recipes with a French Accent
By Jennifer Booker
Photography by Deborah Whitlaw Llewellyn
COOKING / Regional & Ethnic / American / Southern States
COOKING / Regional & Ethnic / French
COOKING / Regional & Ethnic / Soul Food
192 pp.  8x 9 1/4
50 color photos  Index
ISBN: 9781455619726  $26.95
E-book ISBN: 9781455619733  $26.95
Pre-orders available at Amazon.com
Detox Delicacies
Spring-clean your system with 8 seasonal veggies
BY Matthew Kadey, RD
RECIPES BY Mary Margaret Chappell
Feeling sluggish and saggy after a winter of rich foods and too little exercise? Never fear, spring is here. As the weather warms up, Mother Nature provides a bounty of veggies that help cleanse and energize wintered-over bodies. While all spring greens are good for you, a select few have properties that target key cleansing organs, such as the liver, gallbladder, and kidneys. We feature them here, along with recipes that go heavy on detox ingredients and light on calories, so you can spring-clean your system—and maybe shed a few pounds.
Asparagus
Since Roman times, this harbinger of spring has been eaten to cleanse the digestive system. Asparagus is a top food source of glutathione, an antioxidant that helps support the body's main detox center, the liver. High levels of fiber in asparagus act as an intestinal broom, sweeping out toxins as it winds its way through your digestive tract.
Dandelion Greens
So much more than a weed, the jagged leaves of the dandelion plant are a natural diuretic; urination helps remove sodium and water from the body and lower blood pressure. Dandelion greens are grown commercially and can also be foraged from fields year-round. Just be sure to snip young greens and stay away from dandelions in parks and public lawns that may have been sprayed with chemicals.
Watercress
Was Hippocrates, the father of medicine, onto something when he plied patients with watercress as a blood purifier? A study published in the European Journal of Nutrition discovered that watercress may help reduce cancer risk by stimulating the production of detoxifying enzymes. Also, Irish researchers found that munching on this green can safeguard health by reducing DNA damage and improving blood antioxidant levels.
Bok Choy
Traditional Chinese medicine credits bok choy with promoting digestion. This relatively mild-flavored Chinese cabbage lends a tender sweetness to dishes while packing a wallop of vitamin C, carotenoids, and phytonutrients that help strengthen the immune system and may reduce the risk of some cancers.
Mustard Greens
Related to kale, cabbage, and other cruciferous vegetables, peppery mustard greens are high in glucosinolates, compounds that rev up detoxification enzymes and help protect liver cells and other organs. The leaves are an excellent source of vitamin C and beta-carotene.
Celery
At a mere 16 calories per cup, celery is a dieter's dream. But this veggie can do more than just fill you up without a heavy calorie toll. Celery's potassium and water content works as a diuretic to promote toxin removal and kidney support.
Leeks
In French Women Don't Get Fat, author Mireille Guiliano kicks off her diet with Magical Leek Soup to nourish and cleanse her system. The science behind the magic involves leeks' high fiber content and mild diuretic properties. Leeks, like their garlic and onion cousins, contain sulfur compounds that play detoxifying and cancer-fighting roles in the body. Also, leeks have a healthful dose of vitamin K, which, according to a study in published in 2010 in Diabetes Care, may help reduce type 2 diabetes risk.
Parsley
In herbal medicine, parsley is prescribed as a depurative (system cleanser), a stomach soother, and even a breath freshener. The tasty herb, which goes with just about everything, is high in vitamin C, beta-carotene, lutein, and niacin (vitamin B3), which may help reduce the risk of environmental pollutants in the body.
Three Great Slow Cooker Recipes
Compliments of Cooking Light
Yield: 6 servings (serving size: 1 2/3 cups)
Hoppin' John is said to bring good luck all year when eaten on New Year's Day; it's also know to be served all year around as well. With this being American Heart Month, enjoy this healthy version from Cooking Light.
Ingredients:
2 (16-ounce) packages frozen black-eyed peas
1 1/4 cups sliced green onions, divided
2 cups hot water
3/4 cup chopped red bell pepper
2 tablespoons minced seeded jalapeño pepper
2 teaspoons hot sauce
1/4 teaspoon salt
1/4 teaspoon freshly ground black pepper
1 vegetable-flavored or chicken-flavored bouillon cube
1 (14.5-ounce) can diced tomatoes with pepper, celery, and onion, undrained
1 tablespoon tomato paste
2/3 cup uncooked converted rice
Directions:
Place peas, 3/4 cup green onions, 2 cups hot water, and next 6 ingredients (through bouillon) in a 4-quart electric slow cooker; stir well.
Cover and cook on HIGH for 4 hours.
Stir in tomatoes, tomato paste, and rice; cover and cook on HIGH for 1 hour or until peas and rice are tender and most of liquid is absorbed.
Stir in remaining 1/2 cup green onions.
Compliments of Martha Stewart
Yield: 4 Servings
Lamb shanks are at their best when gently cooked. A slow cooker creates meltingly tender meat in a flavorful sauce – perfect for Sunday dinner. Asking your butcher to slice your shanks ensures an easy fit in a slow cooker. Or, look for smaller foreshanks, which come from the front of the lamb.
Ingredients:
1 1/4 pounds small potatoes, halved
4 large shallots, cut into 1/2-inch wedges
3 garlic cloves, minced
1 tablespoon grated lemon zest, plus 2 tablespoons lemon juice
3 sprigs rosemary
Coarse salt and ground pepper
4 tablespoons all-purpose flour
3/4 cup low-sodium chicken broth
3 1/2 pounds lamb shanks, cut crosswise into 1 1/2-inch pieces and trimmed of excess fat
2 tablespoons extra-virgin olive oil
1/2 cup dry white wine, such as Pinot Grigio
1 cup pitted green olives, halved
Step 1
Combine potatoes, shallots, garlic, lemon zest, and rosemary in a 5-to-6-quart slow cooker; season with salt and pepper. In a small bowl, whisk together 1 tablespoon flour and broth. Add to slow cooker.
Step 2
Place 3 tablespoons flour on a plate. Season lamb with salt and pepper, then coat in flour, shaking off excess. In a large skillet, heat oil over medium-high. In batches, cook lamb until browned on all sides, about 10 minutes; transfer to slow cooker. Add wine to skillet and cook, scraping up browned bits with a wooden spoon, until reduced by half, about 2 minutes. Add to slow cooker, then cover and cook on high until lamb is tender, about 3 1/2 hours (7 hours on low). Stir in olives, cover, and cook 20 minutes.
Step 3
To serve, transfer lamb and vegetables to a platter. Skim fat from cooking liquid, then stir in lemon juice and season to taste with salt and pepper. Serve sauce with lamb and vegetables.
Compliments of Taste of Home
Yields: 4 Servings
Ingredients:
4 bone-in chicken breast halves, skin removed (8 ounces each)
1 can (15 ounces) white kidney or cannellini beans, rinsed and drained
3/4 cup thinly sliced sweet onion
1/2 cup chopped sweet red pepper
1 cup peach salsa
1 tablespoon curry powder
1/2 teaspoon salt
1/4 teaspoon pepper
1 cup fresh green beans, trimmed and cut in half
2 tablespoons cornstarch
1/2 cup cold water
1-1/2 cups chicken broth
1-1/2 cups uncooked Minute® White Rice
Directions:
Place the chicken, kidney beans, onion and red pepper in 4-qt. slow cooker.
In a small bowl, combine the salsa, curry powder, salt and pepper; pour over top.
Cover and cook on low for 4-5 hours or until chicken is tender.
Stir in green beans. Combine cornstarch and water until smooth; gradually stir into slow cooker.
Cover and cook on high for 30 minutes or until sauce is thickened.
In a large saucepan, bring broth to a boil; stir in rice.
Cover and remove from the heat.
Let stand for 5 minutes or until liquid is absorbed and rice is tender.
Fluff with a fork.
Serve with chicken and sauce.
article compliments of BasilMagazine.com
The Price of Limes are at an All Time High!
Here, in the U.S., we get 90% of our limes from Mexico and recent developments mean that we'll be getting a lot less for a lot more! Why? We can blame it on the perfect storm of torrential rains, bacteria infected lime trees, and organized crime in Mexico, all of which have caused the price of limes to quadruple from $25 a box to over $100!
What does this mean for you and I? My guess is a summer filled with fewer Mojitos, less lime in our lime-infused Carne Asada tacos, and Cherry Limeades minus the lime! How sad is that?
For the complete story, check out www.npr.org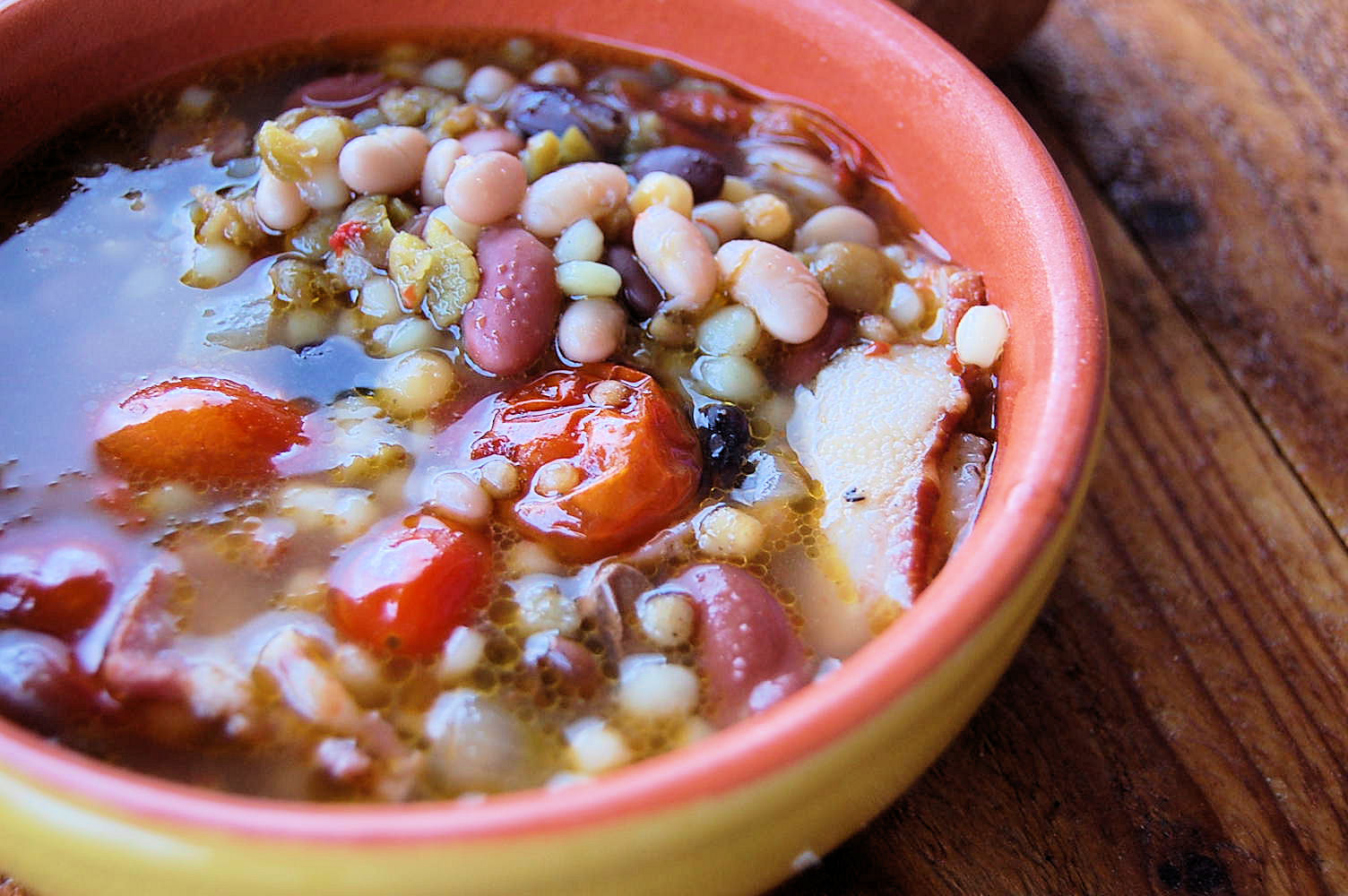 Ham & Bean Soup
yields 6 servings
Ingredients:
2- 14.5 oz cans low sodium beans, your favorite, rinsed
1- 14.5 oz diced tomatoes
8 oz smoked ham, diced
1 small onion, diced
2 cups water or vegetable stock
2 large gloves garlic, minced
1 tablespoon chili powder
1 teaspoon cumin
 Sea salt and freshly ground black pepper, to taste
1 pinch cayenne, optional
Directions:
Combine all ingredients in a large sauce pan over medium heat, bring to a boil.
Reduce heat to low, and simmer for 30 minutes.
Adjust with salt and pepper and serve piping hot.
Enjoy!
Marley Coffee Launching New Products and Innovations
Marley Coffee, the sustainably grown, ethically farmed and artisan-roasted gourmet coffee company, will launch seven new products this month.
Marley Coffee will have a full line of Rainforest Alliance (RFA) Certified coffees at the Natural Products Expo West, including 8oz ground and RealCup(TM) single serve cup versions of "Buffalo Soldier RFA," "Mystic Morning RFA" and "Smile Jamaica RFA." The company will also unveil RealCup versions of two brand new flavors, "Catch a Fire RFA," inspired by Jamaican chili, and "Spiced Root Rum RFA," inspired by Jamaican rum.
The company will also showcase a Marley Coffee-branded Bike Cafe mobile coffee cart. In December, the company purchased the majority of assets of Bike Cafe Franchising Inc., a Denver-based company that owned and sold mobile coffee carts worldwide. Additionally, the company will launch its second-generation AVT automated coffee machines for office and retail locations. The new machines feature interactive touch-screens and a more user-friendly and versatile design. Both the Bike Cafe mobile coffee cart and the Company's automated coffee machines bring an innovative solution to retail or office locations without the need to install permanent structures and overhead. Grocery managers can use these products to fill a void left by the removal of many self-service coin counting and processing machines.
Brent Toevs, Chief Executive Officer of Marley Coffee, said, "With the launch of these seven new products, we aim to provide multiple points of interaction for the consumer throughout the grocery shopping experience, from the parking lot to the checkout line."
"We are excited that consumers will able to spot the Rainforest Alliance's iconic green frog seal on Marley Coffee's new lineup of products being launched at Expo West," commented Alex Morgan, senior manager of sustainable agriculture at the Rainforest Alliance. "By sourcing beans from Rainforest Alliance Certified(TM)farms, Marley Coffee is demonstrating its commitment to environmental sustainability and improved conditions for coffee farming communities."
Learn more at www.MarleyCoffee.com.
Pasta Puntanesca
This quick and easy version of Pasta Puntanesca is perfect for a weeknight meal and is sure to be a crowd pleaser!!
Yields 4-6 servings
Ingredients:
1-28 ounce can peeled tomatoes
1/4 cup extra virgin olive oil
1/4 teaspoon red pepper flakes
1/3 cup caper or sliced green olives
4 cup fresh spinach or 1 pound frozen spinach
sea salt and fresh cracked black pepper, to taste
1 pound whole wheat pasta, your favorite brand
1/2  cup shredded Parmesan cheese
Directions:
Bring 2 quarts water to a rolling boil. Add pasta and cook for 8-10 minutes, drain, Do NOT rinse, and set aside.
Heat saute pan on medium heat, add oil and red pepper flakes and cook for 1 minutes. Add tomatoes and crush with spoon; bring to a boil.
Add capers and spinach. bringing back up to a boil, stirring constantly.
Add cooking pasta, season with salt and pepper, to taste. Garnish with shredded Parmesan cheese.
Serve piping hot.
Enjoy!